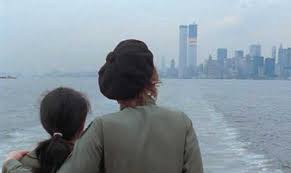 By: Vickie de Falco
My husband Frank does not get star struck. Whenever we're out walking, my gaze tends to wander to buildings, architectural details, and shop windows while Frank looks at people.
Countless times he leans into whisper "that was so-and-so who just walked by," and no matter how quickly I turn, I only see some random famous back.
But one weekend on a warmish afternoon we were walking up Broadway across the street from Lincoln Center and we both clocked an instantly recognizable face: Yoko Ono.
There she was just strolling along Broadway with the usual weekend crowds, accompanied by a rather large man who was clearly a bodyguard. That bodyguard would eventually be charged for embezzling from Yoko.
She was dressed in her trademark black – slacks, turtleneck, sweater, oversized sunglasses, and hat. And then we passed her and stopped to watch her walk away.
The Broadway show
More than star struck, the usually loquacious Frank was tongue-tied and frozen on the street when I spurred him to action. We recently had taken our 10-year-old son, Gianni, to see Lennon, a Broadway show based on John's life that featured his music and lyrics.
As a Broadway production it probably wasn't very good, lasting only about 50 shows, but to a Beatle fan it was a chance to revel in John's music in a different but still meaningful way.
Yoko had an active role in the show and so I encouraged Frank to approach her to let her know how much we, and especially our burgeoning Beatle fan son, enjoyed it. So he did!
At first approach, her bodyguard stepped in the way but when Frank told her that we went to see Lennon and just wanted to thank her, she reached out to him and held his hands between hers. And a nearly 15-minute conversation with Yoko ensued.
Still holding Frank's hands, she gave them a final squeeze to thank us, said enjoy your afternoon, and walked on. Good thing I was standing close enough to hear the exchange because Frank barely remembers a word of it.
She was clearly very proud of it, despite its limited run, and after several minutes talking about the long process to get it to Broadway, cryptically said that she felt some obscure unnamed forces set out to impede its success.
Since then, we've seen Yoko, also an Upper West Sider, many times in the neighborhood, including once standing in the same line to see a movie at the local theater, just like any other New Yorker.